Coree from Alabama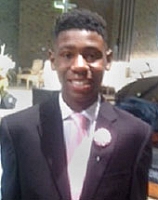 Age 20
Gender Male
Location Alabama
Ethnicity NA
Case Number 59012016107MNS
---
Coree, born September 2002, is 14 years old and in the 8th grade. He has a bright smile and is very polite. He loves to listen to music and play video games. He also enjoys spending time outside, especially playing basketball. His favorite foods are potato salad, ravioli, and hot pockets.
Coree receives special education services at school and makes good grades. He enjoys school, but does sometimes experience difficulty with interacting with peers. He receives medication to help control his behavior. His coping skills have improved and he has learned more appropriate ways to express anger and frustration.
Coree needs a family who can provide a loving, stable, and safe home with consistent structure. He would do well in a one or two parent home, with or without children. He will likely need continued supervision and assistance as an adult.