Kanila from Alabama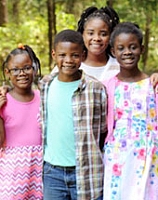 Age 19
Gender Female
Location Alabama
Ethnicity NA
Case Number S590110061
---
Naydeya, born April 2001 is an intelligent young lady. She is an excellent student who maintains A/B average. She loves sports and currently plays volleyball and softball with her school. She enjoys reading, listening to music and watching movies. She also likes to go shopping at the mall. She is quiet and friendly and gets along with most anyone. She needs a two parent home with no other children besides her siblings.
Kanila, born April 2004 is a busy child who enjoys crafts, singing, and playing in the band at school. She likes to be outdoors and currently plays softball. She has a great sense of humor and likes to try new things. If Kanila could plan a day all about her she would enjoy a day of outdoor activities or going to the mall to shop. She is very capable of doing well in school, but has had a hard time finding the motivation to do so. Kanila has an IEP in place to assist with one on one help with her studies.
Dalyn, born March 2005 is an adventurous child who has a great sense of humor and loves to try new things. He enjoys cooking, crafts, and building things. Dalyn is involved in Cub Scouts, karate, and has a mentor. If he could plan a day all about him he would do anything to enjoy the outdoors, go to the zoo, and get new toys. Dalyn has done well in the past academically, but has begun to struggle with behavioral problems. He currently receives As, Bs, and Cs and receives special education services.
Kamaree, born July 2006 is a sweet child with a great sense of humor just like her siblings. She enjoys coloring, playing with toys and eating sweets. If Kamaree was to plan a day all about her she would spend it playing games or taking a trip to a new place. Kamaree does well academically, however excessive talking and trouble listening to teacher instructions cause school to be a bit difficult.
These siblings long to be in a forever family together but with no other siblings.