Alyssa from Arizona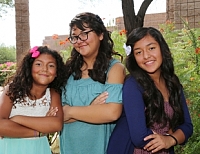 Age 18
Gender Female
Location Arizona
Ethnicity NA
Case Number Alyssa
---
These three sisters are so talkative, energetic and so sweet. They will entertain you from beginning to end. The girls are in such wonderful and trying stages individually and they acknowledge that. They love to ask questions and learn from the adults in their lives, they are very inquisitive and interested in the world around them. All three girls really enjoy school and do well; they enjoy socializing with friends and being active in whatever school activities are available. They all agree that their favorite restaurant to go to is Panda Express! Each of the girls wants a family to know that although they are different, they all agree that they want to be apart of a family that loves and respects each other.
Angel is the oldest, she is the quietest. Angel loves to draw, hang out with friends, and to paint her nails. She enjoys having her space and time and it is very important to her.
Rachel is the middle child, she is a social butterfly, and she loves her long hair and laughing. Rachel prides herself in her school work and she is confident in all things she does.
Alyssa is the youngest, she is so sweet, energetic and considerate of all those around her. Alyssa loves to play with dolls, dance and being outdoors.
Alyssa was born in 2008.
Rachel was born in 2006.
Angel was born in 2005.