Anthony from Arizona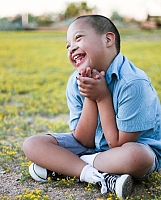 Age 19
Gender Male
Location Arizona
Ethnicity NA
Case Number Anthony
---
Anthony is a fun and loving boy whose smile lights up any room! Anthony likes to laugh and likes to make those around him laugh too. Anthony's favorite activity is playing games and puzzles on his iPad. He also enjoys watching movies with the other children in his foster home and loves to ride in his side-by-side car. Anthony enjoys going on walks, going to the park, and sliding down the slide. Anthony's ideal day would be very structured as he is able to tell what day it is based off his morning routine.
At school, Anthony is able to match shapes, colors, and trace his name. Anthony spends time in the occupational therapy room playing on a trampoline and throwing a ball with his aide. Anthony has built a close relationship with his aide and looks forward to seeing her every day.
Anthony is a child who requires total care. Anthony needs a family that has training in working with developmental disabilities and special needs. Anthony would welcome siblings as long as he is given some time to adjust.
Anthony was born in 2004.