Brenda from Arizona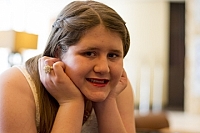 Age 20
Gender Female
Location Arizona
Ethnicity NA
Case Number Brenda
---
Brenda says she is a great helper and good friend because she isn't afraid to stand up for people who are being bullied.
She is always a team player and a great listener too. Brenda enjoys reading and prides herself on being a diligent reader. Her favorite book is "Twilight" and she has high hopes of being a book editor when she grows up! One thing Brenda hopes to get better at is writing books. Although Brenda has a passion for reading, her favorite subject is math.
Brenda enjoys dancing, doing Zumba, swimming and watching movies. Some of Brenda's favorite foods are sushi, Chinese food, cookies and donuts. Her favorite holiday is Christmas but she also enjoys celebrating her birthday, Easter, Valentine's Day and Halloween. If Brenda could visit any place on earth, she would go to Knott's Berry Farm. Brenda was born in 2003.