Christina from Arizona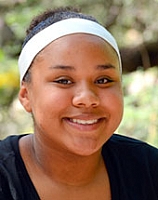 Age 22
Gender Female
Location Arizona
Ethnicity NA
Case Number AZ16496847
---
Christina is a sweet girl with a big heart. She can be somewhat shy at first, but will open up once she is comfortable. She is helpful at home and enjoys one on one time with others. Her favorite things to do in her spare time are watching YouTube videos, Netflix and listening to music.
Christina loves animals! Her favorite animal is a kitten and she would really like to have one! When it comes to food, Christina is a big fan of Chinese food and her favorite place to eat is at Panda Express.
Christina is currently doing well in school and has good attendance. She has dreams of attending college after graduation and become a veterinarian. Christina was born in 2001.