Cody W from Arizona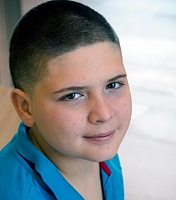 Age 21
Gender Male
Location Arizona
Ethnicity NA
Case Number Cody W
---
Cody is a fun-loving kid who appreciates a good joke and having a good time with people that care about him. Cody is an avid basketball player and is happiest shooting hoops anywhere he can find a basket. He spends time working to improve his skill to use when he plays on competitive teams. Cody also enjoys building things and would one day like to learn how to build a car from scratch.
Cody is motivated in school by the opportunities to play basketball. He is dedicated and focused when it comes to working hard to be able to be better on the court, recognizing that means he has to do well off the court as well. Cody utilizes an IEP in school that has helped him to be successful as well.
Cody loves a good meal and has a particular liking for ice cream and sweet treats.
He is looking for a family that will be able to provide a consistent and structured routine with clear expectations. Cody is open to brothers or sisters and would enjoy have a pet dog. Cody would love an athletic and active family that can keep him busy and engaged.
Cody was born in 2002.