D'Angelo from Arizona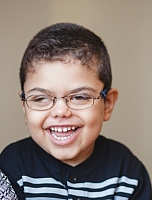 Age 11
Gender Male
Location Arizona
Ethnicity NA
Case Number D'Angelo
---
This cutie is old D'Angelo, better known as D'Lo! D'Lo is a sweet, smiley child. He loves all things music and loves when people move his arms to pretend he is a drummer! Some of his favorite things are toys that play music or make sounds, sensory interaction activities and infant games on his IPad. D'Lo loves the book "No More Monkeys Jumping on the Bed" and shows like "Baby Signing Time" and "Baby Einstein." He loves all sing along and interactive books and shows.
D'Lo enjoys going to church and interacting with people. He's a happy child, always laughing, and likes to be cuddled.
D'Lo attends a school geared toward special needs children. It is stated that he enjoys school and that his personality has blossomed since he started.
D'Lo needs a family experienced with caring for special needs children. He needs a two-parent home with few or no children. He needs a knowledgeable, loving family who is willing and able to put in the time and effort required to meet his needs. A family will need to understand the daily care involved with raising D'Lo and will need to have the organizational skills needed to maintain all of his appointments.
D'Angelo was born in 2012.