Darryl from Arizona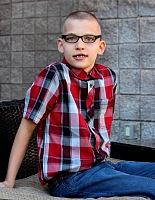 Age 21
Gender Male
Location Arizona
Ethnicity NA
Case Number Darryl
---
Darryl is an adorable boy who is very curious about his surroundings and loves to play outside. An energetic and healthy child, Darryl's favorite pastimes include swimming, long walks and car rides. He also enjoys going to the park and playing on the slides and swing sets. He loves anything chocolate, especially ice cream and milk!
Darryl is known to be a great helper at home and at school and is always eager to have a role in daily routines. He is also a sentimental spirit who genuinely cares for the well-being of others. Darryl is smart and enjoys going to school, where he makes consistent progress and brings home positive daily notes from his teachers.
Darryl was born in 2002.