Daymiun from Arizona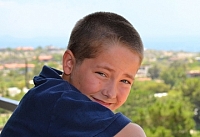 Age 17
Gender Male
Location Arizona
Ethnicity NA
Case Number Daymiun
---
Daymiun is a very loving and caring child that would do best with a forever family who can reciprocate the love and care he gives to others. Daymiun is a happy child with a sweet personality. He has a love for sports and will be playing football in the near future! Daymiun enjoys spending time outside, swimming or just playing around.
Daymiun doesn't mind being indoors either. He enjoys playing video games on his tablet and watching television. Daymiun likes games such as Clash of Clans, Crashy Road, and Smashy Road.
Daymiun also likes listening to music, especially pop music. Although he doesn't seem to have a preference in artists, Daymiun does enjoy listening to songs by Justin Bieber.
Daymiun was born in 2006.