Giovanii from Arizona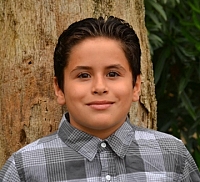 Age 19
Gender Male
Location Arizona
Ethnicity NA
Case Number Giovanii
---
Giovanii is a fishing extraordinaire. He's been on many fishing trips and is proud to have caught a blue gill, bass and cat fish before. It's no surprise that his favorite book is "Fish of Arizona" and that he enjoys watching TV shows about fishing on Animal Planet. Giovanii also hopes to be a professional sport fisher on TV when he grows up. Giovanii is into camping and carries a great deal of pride since he knows how to set up his own tent!
This is Giovanii's first year learning to play the viola in the school orchestra. Although Giovanii is great at fishing and camping, Giovanii would like to get better at division.
If Giovanii could go anywhere in the world, he says he would like to visit the Amazon to catch a tiger fish.
Giovanii would love a family that enjoys fishing as much as he does.
Giovanii was born in 2004