Joey from Arizona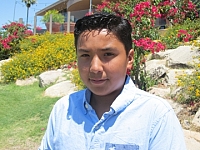 Age 20
Gender Male
Location Arizona
Ethnicity NA
Case Number Joey
---
Joseph, or "Joey," is an outgoing boy who loves all things sports, especially football and basketball. He plays both sports at school and prefers tackle football to flag.
If you were to take a look in his room, you would see posters of all his favorite sports teams, including the Cardinals, Cowboys and Patriots. He particularly loves Tony Romo and believes he is the absolute best quarterback. If Joey could travel anywhere in the world, he would go to The University of Phoenix stadium in where the Arizona Cardinals play.
When Joey is not doing something sports-related, you will find him reading a Marvel comic book or "Diary of a Wimpy Kid," playing violin, or hanging out with his friends. He has a lot of energy to expend and besides football, he loves to skateboard, ride his bike, or do anything outdoors! Joey enjoys school and does well academically.
Joey's favorite holiday is St. Patrick's Day, because he loves the desserts and Leprechauns. Joey has his mind set for his future; he wants to become a professional football player for the Cardinals one day. Joseph was born in 2003.