Jorge D from Arizona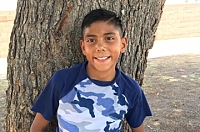 Age 17
Gender Male
Location Arizona
Ethnicity NA
Case Number Jorge D
---
Jorge is a charming, playful and funny boy. He loves playing basketball, football, drawing and board games. Jorge also loves to sing and be the life of the party. When Jorge wants to get his jam on, he listens to Michael Jackson, so he can show off his moonwalking skills.
When you ask Jorge what his perfect weekend would be, he says playing video games, swimming at a pool, and then roller-blading. If that is not possible, Jorge also likes going to his favorite restaurant, Filiberto's, to get tacos and watch Spiderman or SpongeBob after.
Jorge likes learning. He says his favorite subject is Math because he enjoys doing math problems and is working to improve his math skills. In fact, when he grows up, he wants to be Batman and use his math skills to create gadgets.
Jorge says his ideal family would be willing to let him do basketball camp, family vacations, and just have fun!
Jorge was born in 2006.