Jose from Arizona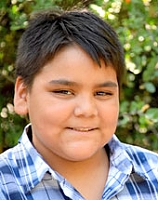 Age 17
Gender Male
Location Arizona
Ethnicity NA
Case Number José
---
When it comes to sports, José is all in!
He enjoys watching the Giants play football and he also enjoys playing soccer and basketball. If he can't do either of these, he likes to play Lego Batman games and quad racing games on the Xbox 360, ride his bike or go swimming.
José enjoys math class; he is currently learning about the metric system. When it comes to food, he enjoys pepperoni pizza, hot dogs, ice cream corn, tamales and enchiladas.
When asked what he's most proud of, José says he's proud of the ways he has learned to handle his anger management issues.
Jose has no preferences when it comes to his forever family, although a strong male figure is desired. Jose is also open to siblings, but prefers them to be older.