Nicholaus from Arizona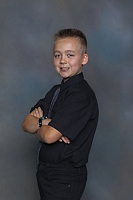 Age 15
Gender Male
Location Arizona
Ethnicity NA
Case Number Nicholaus
---
Nicholaus is an energetic little boy who loves to ride his bike, jump on the trampoline and build things. He will soon be starting Parkour too!
He can often be found spending time with people he cares about and joining in on whatever someone else is doing. He can be silly and loves to dance and sing. He enjoys listening to any kind of music he can dance to and enjoys singing along to some of his favorite Christian songs.
Helpful, outgoing, fun, talkative and self-confident, Nicholaus is not a picky eater he enjoys foods such as pizza, pancakes and Chipotle's burritos.
Nicholaus needs a two-parent family with a strong male figure. He would do best in a home with older teens or as an only child. A family who will be willing to allow Nicholaus to maintain the support connections he currently has would be great!
Nicholaus was born in 2008.