Temperance from Arizona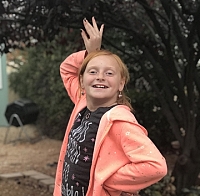 Age 16
Gender Female
Location Arizona
Ethnicity NA
Case Number Temperance
---
Say hello to Temperance—a high spirited, bright and bubbly girl who loves to be out and about! "Tempe" likes to spend her days going to the park, rollerblading, playing soccer, and especially horseback riding. Being that horses are her favorite animals, Tempe takes great pleasure when she has equine therapy and gets to spend time riding and caring for each horse.
One day, she'd like to own her own mansion and ranch so she can raise different horses and other farm animals as well. On the off chance Tempe is inside, she enjoys playing on her tablet or watching her favorite show, "The Wild Kratts". She also enjoys playing different board games, coloring, and painting her nails.
Temperance prefers to be the youngest in her forever family. Pets are happily welcomed!
Temperance was born in 2007.
If you are interested in learning more about Temperance, please contact Crysta Hernadez at CHernandez@cfcare.org