Michael from Maine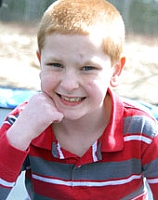 Age 15
Gender Female
Location Maine
Ethnicity NA
Case Number SME0410898
My Siblings Kalob
---
Kalob and Michael are polite boys who are looking to find their forever family. They really enjoy playing outdoors and being active. They also enjoy playing games, watching movies and having family time. Both boys are bright and like to please others. They have been through trauma and need a family who can support them as they heal. They do not yet have a clear understanding of adoption and need a family that is willing to commit to them and provide consistency and structure in their daily lives.
10-year-old, Michael, loves video games, sports, cars, and super heroes. He identifies with superheros for their inner strength. Michael "Mikey" needs a family to be patient with him as he learns to trust them. He is a people-pleaser and strives to gain acceptance from the adults in his life.
8-year-old, Kalob, is very intelligent and aspires to be a police officer when he grows up. He loves reading, playing games, super heroes, and cars. He needs a family that will be patient as he learns to trust them. He can be very affectionate and will bond well with the right person.