Michael from Pennsylvania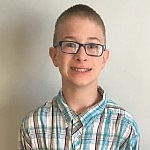 Age 16
Gender Male
Location Pennsylvania
Ethnicity Caucasian
Case Number C65AA54
---
Micheal is nice, helpful, funny, and creative. He loves being inside so he can play video games on his Xbox. But, when he plays outside he likes to ride his bike, go on walks, and swim. Micheal loves dogs, but doesn't care for cats.
Micheal wants a mom and a dad with two older siblings, one brother and one sister. His new family would need to be patient, supportive, and understanding of Micheal's needs. He would benefit from extra love and attention. The most important thing that Micheal wants in a family is that they are nice to him and will take good care of him. He also would love to play basketball, baseball, and Xbox with his new family. It would be a bonus if his new family would be Pittsburgh Steelers and Pittsburgh Penguins fan!
Micheal is legally free for adoption.