Amelia from Texas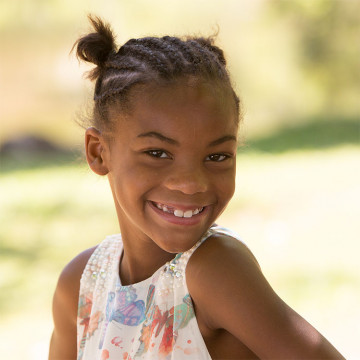 Age 12
Gender Female
Location Texas
Ethnicity African American
Case Number 82276
My Siblings Quintavius Moriah
---
Amelia is an energetic, talkative young girl who enjoys playing outside, playing with dolls, and arts and crafts. She loves going on outings and fun activities. Whether it be to the movies or Six Flags, Amelia is especially motivated to be on her best behavior by these types of activities. With adults she is close to, Amelia is very caring and affectionate. She is also described as being excellent at doing chore. While Amelia continues to work on her behavior at school, she reports liking all of her classes with math and writing being her favorite. Amelia also enjoys spending time with her siblings.
Quin, Moriah, and Amelia are three delightful children who desire to be adopted together. Moriah and Amelia enjoy telling you all about their day while Quin sit back quietly and let his younger sisters take center stage. As the oldest, Quin assures his sisters are safe and tries to help them when they need it. Quin enjoys spending time with his younger siblings and playing the big brother role, looking out for them. While Quin is the basketball hopeful, the girls also have similar interests as Moriah and Amelia both enjoy hip hop dance, arts and crafts, and playing outside. These siblings are ready to have a home that is safe with boundaries and expectations. Visit me at the The Heart Gallery of Central Texas.
Amelia needs a family who will set clear boundaries and expectations. Amelia has shown resiliency. She continues to make improvements in a structured, supportive setting and is motivated to continue to work hard to be able to live with her forever family. She continues to make progress in all areas of her life and hopes for a family where she can continue her progress and be adopted with her siblings. Amelia needs a nurturing, consistent family to help her grow to her full potential. She will do best in a family with caregivers who have the patience and ability to provide her and her siblings the attention, nurturing, consistency, and structure they need. Ideally, this will be a family with multiple caregivers in the home and few or no other children.