Angel from Texas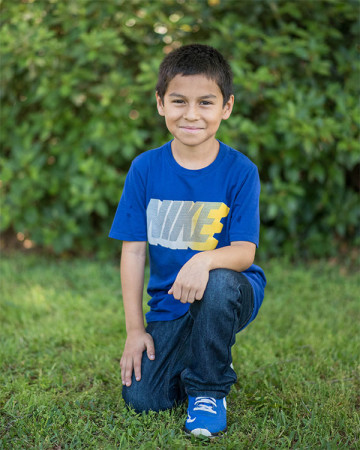 Age 14
Gender Male
Location Texas
Ethnicity Hispanic
Case Number 82254
---
Order a pizza, grab a game and you are on your way to bonding with this amazing youth! Angel is very shy when you first meet him. After spending time with him you quickly learn that Angel is outgoing. He enjoys watching TV and movies. He likes to sing and attend church. Angel is on the A/B honor roll at school. Angel is very friendly and laid back. He enjoys being outside and on the move. Angel's favorite food is pizza. Like most youth, Angel enjoys playing video games. Angel is the oldest of the sibling group and loves to be the older brother. He is very protective of his siblings and gets along with them. Angel has a tendency to try to persuade his siblings to do what he wants.
Angel, Alyysa, Ausencio, and Juan are extraordinary children who hope to find a family full of love and laughter. The siblings enjoy spending time together while playing outdoors. Their favorite activity together is riding bicycles. This sibling group is very outgoing and enjoy going on adventures and exploring new places. If they are unable to be outdoors, then they enjoy play videos games. Angel, Alyysa, Ausencio, and Juan also love to sing and would like to participate in church choir. They enjoy watching movies. Angel, Alyysa, Ausencio, and are very close and like spending time together but also like one on one time with their caregivers.
Angel and his siblings are extraordinary children and their dream family is one that includes a mom, dad, and maybe older siblings. The best forever family for Angel is one who will adopt him with his sibling. Angel needs a couple who is active and can provide attention to all four children. He will respond best to a family who is nurturing, attentive, and active. Angel needs a family who will provide him with guidance, structure, stability, and routine. Angel would greatly benefit from a family who will provide consistent boundaries and supervision. Angel is excited about being adopted and dreams of having a family of his own.