Ashanti from Texas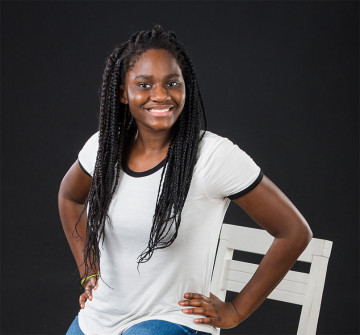 Age 19
Gender Female
Location Texas
Ethnicity African American
Case Number 82115
My Siblings Georgia
---
Ashanti is an outgoing, smart youth. She has personality, talent, smarts, and individuality. Ashanti thrives in school and really enjoys attending every day. She is active in choir and participates in school competitions. She has a beautiful singing voice and if you are lucky, you get to hear her sing. Ashanti is also interested in Cosmetology and is talented in doing hair. She aspires to go to college for Cosmetology. Ashanti is a respectful youth and likes to help her foster family clean and help around the house. She is a very helpful and loving child. Ashanti is really friendly especially when she feels she is part of the family. She enjoys watching Lifetime movies with you and a bowl of popcorn. She enjoys hanging out with the family and her friends. Ashanti loves her sister and wishes for a family to take care and love both of them.
Ashanti and Georgia are full of love and charisma. These girls share a very strong sister bond that is evident when you meet them. They love all things girly. Ashanti and Georgia like to play sports and sing in choir. They like watching Lifetime movies on lazy Sundays afternoons. Ashanti and Georgia have their own distinct personalities. Ashanti is smart and outgoing with a nice and pleasant personality. She likes to sing in her school choir and has an interest is cosmetology as she is talented in doing hair. Georgia is more reserved and can be very shy when you first met her. After she gets to know you, Georgia loves to converse. Georgia likes to play video games as well. Ashanti and Georgia get along with everyone as they are friendly and polite. They are both very smart, love school, and do very well in school.
Ashanti is aware of her situation and desires to be adopted preferably in her current location. She loves the area and wishes to stay in the area. She wants to feel secure, loved unconditionally, and accepted. Ashanti needs a family who will offer unconditional support and guidance. They will understand her artistic drive and offer positive reinforcement. Ashanti's family will help her explore her gifts and talents and excel to her full potential. Most of all, her family will understand her stumbling blocks and assist her to overcome them.