Ashantianna from Texas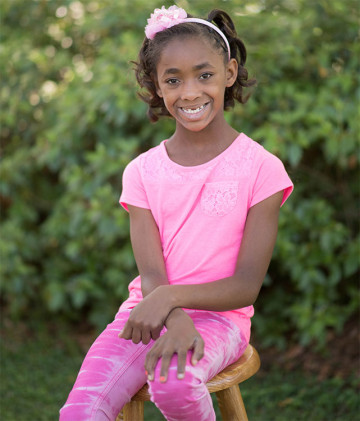 Age 15
Gender Female
Location Texas
Ethnicity African American
Case Number 78531
My Siblings Cleedarrion Kaveon
---
Ashantianna is a sweet girl with a beautiful smile. She is very polite and has a loving personality. Her favorite color is yellow and she seems to gravitate to clothes that have yellow color schemes. Ashantianna thrives for attention and acceptance from others. She has good self-esteem and is very conscious about how she looks. She has an active imagination and loves to play "make believe" about being a princess. Ashantianna loves to be read to and gets excited about learning new words. She is challenged in speech and receives assistance in school with pronunciation of words. At times during school she needs to be redirected about staying on task and following rules. She requires structure and supervision. Ashantianna can be physically expressive when she is upset, but will readily talk about her feelings when she is given attention. She likes to play with Barbie dolls and play dress up. Her favorite foods are cookies and French fries. Some of the activities she enjoys include singing, dancing, listening to music, shopping, and watching movies. If she had a wish, she would like to be a princess and have a house of her own.
Cleedarrion, Ashantianna, and Kaveon are unique siblings with loving personalities. Cleedarrion is the oldest of the three. He is like a teddy bear; warm, laid back, but sensitive. Ashantianna has a bubbly sense of humor and wants to be noticed by others. Kaveon is like a 100-watt lightbulb; he is full of energy and will steal your heart. When they are together, they are happy and playful. They have some sibling disagreements at times, but for the most part, enjoy being together. The boys have more in common with each other than with their sister. This trio loves each other and wants to be together. Cleedarrion, Ashantianna, and Kaveon are looking for their forever home. Visit us at the Heart Gallery of Deep East Texas.
Ashantianna needs a family that will engage in activities with her and advocate for her educational, developmental, social, and emotional needs. She needs a family that is able to give her the attention to thrive. Her family needs to be able to reassure her that she is loved and accepted. Her family will be patient, kind, and empathetic towards her feelings and thoughts.