Georgia from Texas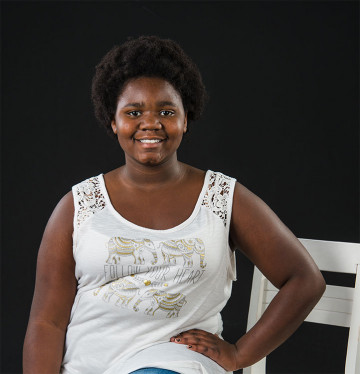 Age 15
Gender Female
Location Texas
Ethnicity African American
Case Number 82114
My Siblings Ashanti
---
Georgia is bright and full of personality. She is a fun, caring, and very sweet child. Georgia enjoys school but does tend to struggle in math. With encouragement and help, she thrives in school. She likes to read, sing, play video games, and watch Lifetime movies on lazy Sunday afternoons. She makes friends easily with her peers and likes to play video games with her friends. Georgia is a respectful girl and will do chores when asked even though she does not like chores. She is bonded with her sister, Ashanti, and wants a family who will love and care for them both. It is important to her to stay with her sister. Georgia loves vacations to the beach and swimming in the ocean. Nothing will stop her love for the ocean!
Ashanti and Georgia are full of love and charisma. These girls share a very strong sister bond that is evident when you meet them. They love all things girly. Ashanti and Georgia like to play sports and sing in choir. They like watching Lifetime movies on lazy Sundays afternoons. Ashanti and Georgia have their own distinct personalities. Ashanti is smart and outgoing with a nice and pleasant personality. She likes to sing in her school choir and has an interest is cosmetology as she is talented in doing hair. Georgia is more reserved and can be very shy when you first met her. After she gets to know you, Georgia loves to converse. Georgia likes to play video games as well. Ashanti and Georgia get along with everyone as they are friendly and polite. They are both very smart, love school, and do very well in school.
Georgia is aware of her situation and desires to be adopted preferably in her current location or somewhere by the beach. She wants to feel secure, loved unconditionally, and accepted. Georgia needs a family who will offer unconditional support and guidance. Georgia's family will help her explore her gifts and talents and excel to her full potential. Most of all, her family will understand her stumbling blocks and assist her to overcome them.