Gregory from Texas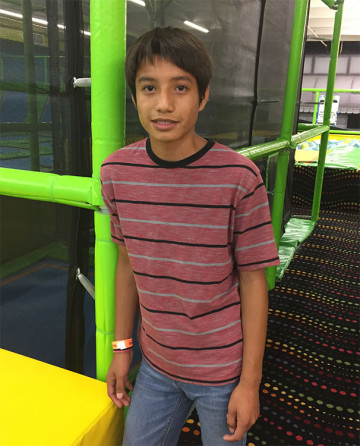 Age 14
Gender Male
Location Texas
Ethnicity Hispanic
Case Number 82840
---
Gregory is a rambunctious child who is full of energy. He enjoys playing basketball at home and would like to join the team at school in the future. Gregory, like his brother, enjoys participating in every after school activity in which he is allowed to participate. He is guarded about his feelings and will take time for him to open up. Gregory does place himself in situations where he need some cooling time and then he is able to interact just. He enjoys fishing and is learning how to prepare fish he catches. Gregory does go fishing once a week and is able to catch some good fish. He does need constant reminders about his chores. Gregory enjoys listening to music and being outdoors playing at home to pass his time.
Julius, Gregory, and Careline are very active children. Julius enjoys playing football, being in the band and ballroom dancing. Gregory enjoys playing basketball and would like to join the football team next year. Careline is not old enough to play sports yet but she does plan on being active. Julius, Gregory, and Careline interact well together. Julius and Careline have a close relationship and enjoy the same things while Gregory has different interests. Julius does play the big brother role and watches out for his sister more so than Gregory. Careline is the shy one out of the three and looks up to her oldest brother for support and guidance. Gregory loves all kinds of sports and is up to a challenge, he enjoys doing his own thing and is not a follower. Over all Julius, Gregory, and Careline share an extraordinary love for one another and are looking for a forever family.
Gregory will do great with a family who will commit and allow him to reach his goals. He enjoys sports and would like for his future family to allow him to participate in extracurricular activities. Gregory is aware of his situation and desires to be adopted with his siblings.