Isaiah from Texas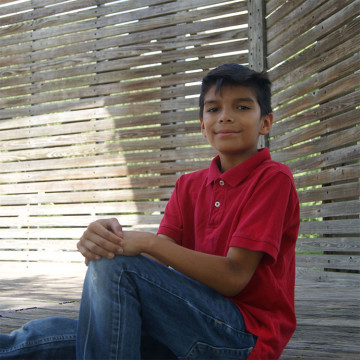 Age 16
Gender Male
Location Texas
Ethnicity Hispanic
Case Number 80723
---
Isaiah is a happy, active, and talkative child. He is the most outspoken of his brothers and is the youngest. Isaiah enjoys the outdoors. He likes to ride his bicycle and play basketball. Isaiah enjoys listening to Tejano/regional Mexican music and states his favorite artist is Michael Salgado. He has a unique taste in the older Tejano genre, as well as the regional Mexican music. Isaiah becomes easily distracted and requires redirection at times. He thrives best academically with one-on-one attention at home. Isaiah participates in an educational program at school to assist in his learning. His favorite subject is science and he states he would like to attend UTSA to study technology when he grows up. Isaiah's second career choice is becoming a cop to serve and protect the community.
Alonso, Jeremiah, and Isaiah are active and fun loving children with charisma and hearts full of hopes and dreams. They consider each other teammates and have a strong sibling bond. They look forward to being with each other and having a family who will support their dreams and passions. Alonso, Jeremiah, and Isaiah love sports, riding their bicycles, and listening to Tejano/regional Mexican music. Alonso and Jeremiah are the oldest and are both protective of each other and their younger brother, Isaiah. Jeremiah and Isaiah are the most outgoing of the three. Jeremiah likes to make jokes and Isaiah is a talkative child. Alonso is the most reserved of the three and takes time to open up to others. Alonso, Jeremiah, and Isaiah are uniquely talented and possess a strong bond with each other. They are looking forward to sharing their love with their forever family. Visit us at the San Antonio Heart Gallery.
Isaiah is anxiously awaiting his forever family. He will benefit from a family who has a moderately high level of structure, supervision, and support. He will thrive with a family who advocates for him at school and provides him with one-on-one instruction. Isaiah will do well with a family who likes outdoor activities and who will allow him to engage in sports outside of school within the community. The perfect family for Isaiah will offer unconditional support, guidance, and supervision. Isaiah has expressed the desire to have a sister and does well with pets in the home. He has made progress over time and needs a family willing to advocate for him while providing new challenges to encourage his progress.