Jonathan from Texas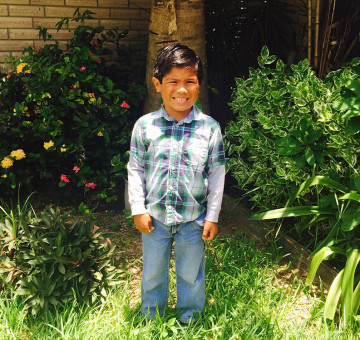 Age 13
Gender Male
Location Texas
Ethnicity Hispanic
Case Number 80425
---
Jonathan and his sister, Maria are twins. Jonathan is currently with his siblings and prefers to remain with them. He can be a very noble child and is very loving at times as well. He likes to play and ride his bicycle. Jonathan has limited verbal skills but he is able to say a few words and get his point across. He has challenges with his behavior and at times will be disobedient and display temper tantrums for small issues, when things do not go in the manner in which he would like. Jonathan is an active child who always has to have something in his hand to distract him so he can play.
Jennifer, Luis, Jose, Juan, Jonathan, and Maria are a close knit sibling group who has a strong bond with each other. Jennifer really enjoys playing sports, listening to music, dancing, and spending time with her siblings. Luis is active and likes superhero action heroes. Jose also likes playing soccer, riding his bicycle, and playing football. Juan likes to play the Nintendo DS, watch television, ride his bicycle, and likes going to the water park. . Jonathan likes to play and ride his bicycle. Maria likes watching television, using the computer tablet, and playing with her toys. Jesus likes playing with his toys and wants all the toys for himself when he plays. The children continue to strengthen their bond by interacting as a sibling group and look forward to finding a forever family will keep them together.
Jonathan will work will with a family who is dedicated and able to provide a lot of attention to him and his siblings. Jonathan will also do well with a family who is able to help Jonathan deescalate his temper outbursts and provide him one-on-one attention.