Kratin from Texas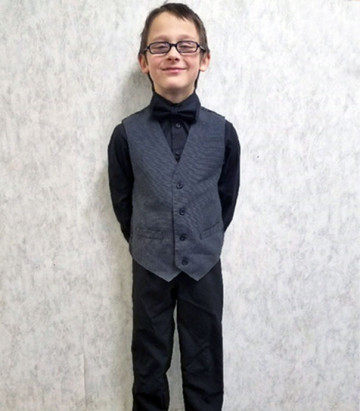 Age 13
Gender Male
Location Texas
Ethnicity NA
Case Number 83340
---
Kratin is a very intelligent child who is able to read at a much higher grade level. He loves to read and is very passionate about science and anything to do with learning. He is very inquisitive and wants to know how everything works. He wants to be a policeman when he grows up and finds learning to be fun and exciting. Kratin is a passionate child who loves to wear suits and ties along with his stylish converse tennis shoe for his every day attire. He is very mature for his age and needs reassurance from the stability and a loving home. Kratin loves his twin siblings and is very protective over the siblings.
Kratin, Preston, and Paisley are a lively sibling group who anxiously await their forever family. The children are endearing, loveable, and outgoing. They enjoy playing together and all things outdoors, riding their bikes, and watching TV. Kratin, Preston, and Paisley are extremely close to one another and have consistently been in each other's lives. They love to spend time with the family, but also like to receive one-on-one attention from their caregivers. They like to help out around the house, especially with cooking and anything creative. Kratin is a fun-loving, happy youth who also has a serious side. He loves anything science. Preston expresses wide-eyed wonder at life in general. Preston is a very social child and loves to be around friends and family. Paisley loves to play with her dolls and loves all princesses. Paisley is more reserved than Kratin and Preston. Kratin, Preston, and Paisley are excited about adoption and finding their family.
Kratin needs a loving family who will provide lots of attention and structure. His family will love him for who he is and enjoy their sense of togetherness. His family will be committed to him and create an environment of learning and trust. Kratin will thrive with a family who enjoys being together. He wants a family who will encourage his love for science and enjoys academia. Kratin will need appropriate role models and a family who will give him the appropriate and suitable role within the family. He needs a loving and caring family who will provide a consistent, stable and nurturing atmosphere. Kratin gets a little fired up at times and will need a family that understands his struggles and loves and supports him no matter what.