Madison from Texas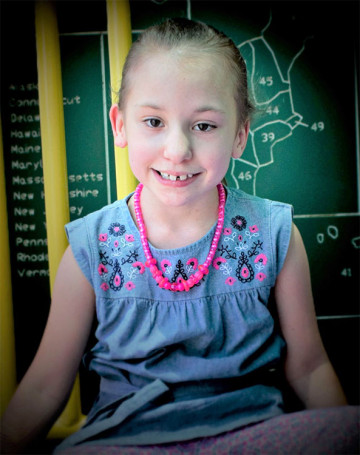 Age 11
Gender Female
Location Texas
Ethnicity NA
Case Number 81957
My Siblings Collin
---
Madison is a sweet and fun-loving girl. She loves being the center of attention and thrives with positive reinforcement. She enjoys playing outside and playing with her dolls. Madison loves Disney movies with princesses, playing games, playing video games, and coloring. She likes to be helpful and participate in keeping things neat and tidy. Sweeping is her favorite way to stay involved although she would rather play than do chores. Madison is very loving and has a contagious giggle. She is diagnosed with a chromosomal abnormality and will need medical follow up and life-long care. Although she is not very verbal she does her best in telling everything that is important to her. She likes attending church and outings with her foster family and would love a family who is active and does fun things together.
Madison and Collin are a two siblings who are closely bonded and like to be with each other. Their smiles will light up a room and they both have a wonderful demeanor. Madison and Collin are fun-loving, light-hearted, caring children who want to be adopted and have a forever family of their very own. Madison is a sweet girl, loves getting and giving affection. She loves Barbie dolls and Disney princesses. Collin is a high-energy and smart boy. He is very active and into all kinds of things. He loves playing outdoors, watching movies, doing arts and crafts, and playing with action toys. These two youngsters will make a delightful addition to an established household. They will have their challenges, as all kids do, but they are a true joy with whom to spend time. Visit us at the Heart Gallery of the High Plains.
Madison will do best in a two-parent family who will provide her with unconditional love, structure, and appropriate discipline. Madison will most likely need care into adulthood. She need a family who has access to various kinds of medical and therapy services. Structure and organization are important skills for her family. The ideal family will have simple rules and demonstrate they are able to adjust rules, boundaries, and chores based on Madison's abilities and comprehension. Madison is able to bond and love and needs a family who is patient, loving, and committed to her long-term.