Quinshay from Texas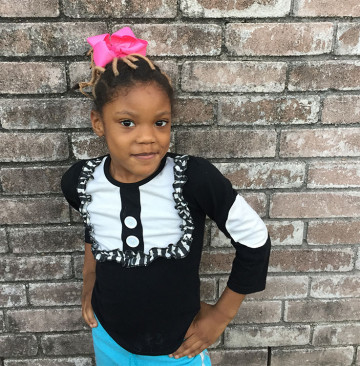 Age 10
Gender Female
Location Texas
Ethnicity African American
Case Number 83519
My Siblings Quintavia
---
Quinshay is a young girl who likes to go by her nickname of "Shay Shay" or "Shay". She is a very active sweet little girl who enjoys spending time with her older sister whom she looks up to. Quinshay is not shy when first meeting someone. She is very open and willing to meet new people. She sometimes can talk so fast and move around so much she has to be reminded to slow down. Quinshay likes playing with children around her age. She plays well indoors and outdoors. Shay likes to play with typical toys for girls like dolls, puzzles, play makeup and dancing. She is willing to try new experiences, if she is allowed. Quinshay is respectful and has manners. She is capable of following directions well, but sometimes has to be redirected. Overall, Quinshay is a very loving and positive child.
Quintavia and Quinshay are well behaved siblings who enjoy being around each other. They are protective and look out for each other. Quintavia and Quinshay are able to play well together. They interact with others well and also have no problems playing by themselves. They sometimes have typical sibling competitions, but it can be easily redirected. They are affectionate with each other as they give each other hugs often. Quintavia watches over her younger sister to ensure she is well behaved. Quinshay enjoys being the baby sister. Quintavia and Quinshay have siblings who are not part of this adoption, with whom they maintain contact.
Quinshay will thrive in a loving, structured, and nurturing home environment. She will do well with a two-parent family with children in the home or without any children. She has stated also she would not mind being in a single parent home. She needs appropriate supervision and a patient family, so that she can learn to trust and bond with her new family. It will be helpful for Quinshay to participate in extracurricular activities and maintain support services, so personal growth and smooth transition to a new family can be promoted. Quinshay needs a family who is active and likes to participate in variety of activities. She has also stated she would like a family who shows her love with hugs. Quinshay needs a family who will continue the visits with her siblings who are not a part of this adoption.