Zairon from Texas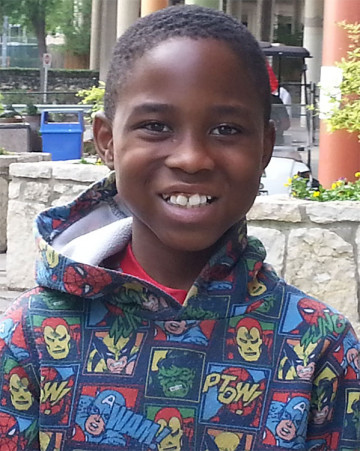 Age 13
Gender Male
Location Texas
Ethnicity African American
Case Number 82177
---
Zairon is full of personality and strong willed. When he is in a good mood, he is very silly and adventurous. Zairon enjoys being active. He is extremely talented and dedicated to playing football. Zairon understands and does well with goal setting, especially if he knows what is expected of him in order to reach a goal and if it's something he really wants. He does well with routine and building a trusting relationship with his caregivers. At school, Zairon benefits from frequent breaks when he is feeling overwhelmed. This helps him take a moment to reset and pace himself, so he is better able to focus on the task. Zairon has a craving to be loved and feel wanted; however, he does not know how to express these emotions. Often, when things are broken down into simple terms and explained to him, he is able to be redirected. Zairon loves to play with his brothers.
Zavontae, Zairon, and Zarius are very close siblings. They enjoy each other's company and play well together. They adore being outside and playing with one another. They like trucks, creating games, and playing with toys. Zavontae, Zairon, and Zarius enjoy laughing and running around when they are together. At times, the boys have typical sibling rivalry, but they are aware that they must get along with each other because they are siblings. Zavontae, Zairon, and Zarius share a very strong attachment and hope to be adopted together. Their relationship is important to them, as it allows them the ability to sustain family traditions and values.
Zairon would like a stable and loving family that will give him the structure he needs. He really needs a family that will encourage him because he thrives on positive reinforcement, consistency, and structure. Zairon will flourish in a home where he is able to express himself and truly be part of a family unit. His family needs to be consistent and compassionate. A stable family will work wonders for Zairon. A family that has a structured schedule will benefit him, as it helps him process his emotions and understand what is to be done.