Alice from Virginia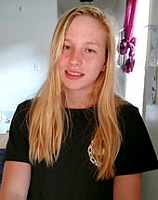 Age 22
Gender Female
Location Virginia
Ethnicity NA
Case Number VA01318724
---
Alice is bursting with energy and loves to be constantly active, especially outdoors. She really enjoys skateboarding, climbing, hiking, and all things outdoors. Alice's favorite sport is soccer and her favorite position is goalie. She loves all kinds of animals and aspires to work in a Zoo. Alice has even given a hamster a kiss!
Alice speaks Latvian, Russian, and English. Although English isn't her first language, she is continually working to improve her English skills and highly values being able to improve upon this skill set. Alice does well in school and takes pride in getting good grades.
Alice does well with younger children and has participated in volunteer activities at a local elementary school. She is a very resilient young lady and will try her best at anything that is presented to her, even when she perceives it to be difficult. Although it may take some time, Alice is very loving and caring for those around her.
Alice will do well with a family that plays sports with her and support her involvement in activities in which she can expend her endless amounts of energy and keep her busy. Alice would highly benefit from a home that is as committed to her improving her English as is she. She will do best in a family who will be patient and consistent in their relationship building with her.