Dylan from Virginia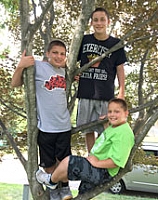 Age 19
Gender Male
Location Virginia
Ethnicity NA
Case Number SVA0110676
---
Derrick is the oldest of the three siblings. He is very observant, at times talkative and enjoys sports, especially basketball. Derrick enjoys playing football, and video games, especially the Madden series. Currently, he is into shoes and is interested in his appearance, as are most boys his age. Derrick has matured in many ways, not only has he gotten older but he displays a level of confidence through his interactions with other, communication and his thinking.
Dylan is middle sibling who loves to read and to build things and play with Legos. He loves to play video games. Dylan is a quiet thinker and is beginning to be more social at school. Dylan is beginning to enjoy playing football and has begun to learn about his likes and dislikes through team sports. He enjoys school and walking to the local school with his brothers!
Dustin, the youngest of the three loves to be outdoors, running and playing. He loves playing video games and sports. Dustin is very energetic. He will express how he feels and has no problems asking you questions or responding to your questions. Dustin is usually able to voice his opinions or to express his feelings and emotions. He is well liked in school, loves to read, and would do well in a home where he is encouraged to read.
Derrick, Dylan and Dustin desire a family that will accept a sibling group of three energetic boys!