Joseph from Virginia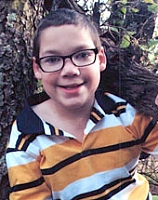 Age 17
Gender Male
Location Virginia
Ethnicity NA
Case Number SVA0110323
My Siblings Bryan
---
Bryan is an intelligent young man with very quick wit, inquisitive and fun to spend the day with. He engages in conversation easily, even when conversations are difficult. He loves all types of animals, especially dogs. Bryan truly wants a family with pets.
Bryan is very active in his school band where he plays Alto Saxophone and has played in several concerts. Most important, he is proud of himself! Playing the Saxophone is something Bryan says he plans to do for a long time.
Bryan loves collecting Pokémon cards and playing the card game. He also enjoys playing Minecraft, both in build mode and survival mode. He is very adept at building creations in Minecraft. Bryan like all boys his age really enjoys playing video games, such as Xbox. He loves the Pittsburgh Steelers and would love to be a member of a family that "has an avid love of the team;" jokingly—no Patriot's fans! Bryan would do best in a two-parent family.
Joseph is a shy young man and it takes time for him to get to know those around him. He is fun to be with and has a great sense of humor. Even when conversations are difficult, he listens to every word and will come back later to discuss the topic when he has had time to process the information.
Joseph loves animals, especially playing with dogs. He desires a family with many pets. He loves "Cool Ranch Doritos," collecting Pokémon cards, playing video games with his older brother, Bryan and wrestling. Joseph also loves wresting, collecting and watching action figures on television. The most important thing to Joseph is to be placed with his older brother, Bryan.