Maddox from Virginia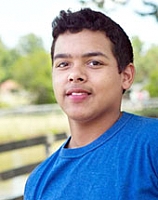 Age 21
Gender Male
Location Virginia
Ethnicity NA
Case Number VA01317007
---
Maddox is a bi-racial male, who is a quintessential gentleman and is always running to open doors for the ladies, takes his hat off indoors and is described by others as considerate and genuine. Maddox is very proud of his recent mastery of the Rubix cube. He enjoys taking things apart, he has a mechanic's mind!
Maddox is a very intelligent young man and would benefit from an academic environment where he would be challenged to apply himself to his fullest potential. His peers describe him as a good role model.
Maddox loves animals, although he has some allergies to cats, and enjoys going to the zoo and pet stores. His favorite football team is the Seahawks, though he will root for other teams. While he finds golf boring, he is rather good at the sport. He is really into Pokémon, video games, Legos and building things in general. His future plans are to join the Navy and he especially enjoys going to the shipyard.
Maddox is excited about finding his forever family and would thrive in a home where he is the youngest child. He is wonderful with pets and loves to help out around the house. He is always willing to learn new things and has a very curious nature.