Rudy from Virginia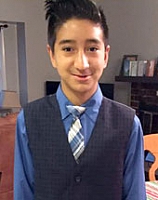 Age 19
Gender Male
Location Virginia
Ethnicity NA
Case Number SVA0110727
My Siblings Elvis
---
Rudy enjoys being helpful to others. He is bright and does well in school. Rudy enjoys performing card magic tricks and is proud to show off how quickly he can put together a Rubik's Cube. He also enjoys being active, playing video games on his tablet, and playing his favorite sport, soccer. Rudy is looking forward to playing on a soccer team.
Elvis is very energetic and likes to remain active. He loves to engage in conversation with others. Elvis enjoys reading, playing with Legos, watching cartoons, and playing board games and video games. He enjoys spending time playing outdoors and going to the park. Elvis' favorite sport is soccer and is looking forward to playing on a team. He is outgoing and makes friends easily.
Elvis loves learning and his teachers enjoy having him in class. He is enthusiastic to share with others the things he is learning in school.
Elvis and Rudy have a very tight and loving bond and desire to be adopted together!