Eric & Amber
Hoping to Adopt
(Utah)
Our Family
---
Our family is missing someone
---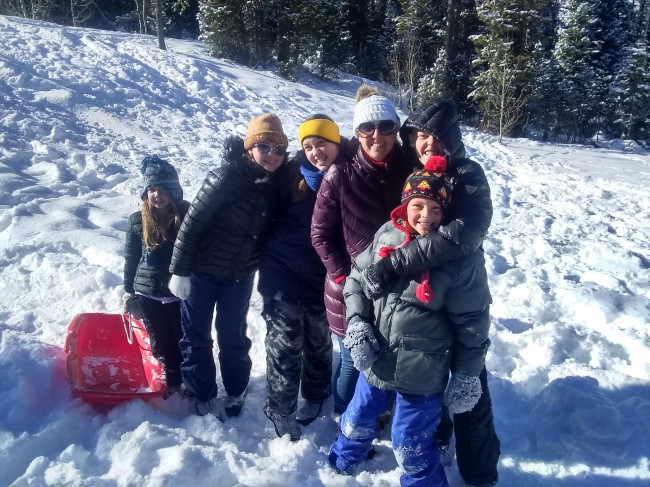 We always get some good sledding in while we are searching for the perfect Christmas tree!
We are the Bingham's. Thanks for taking a little peek at our family and story. Our story might be a bit different than other adoptive parents. We are the parents of 5 beautiful, smart, independent, and funny kids. On any given day our home is filled with a bit of chaos with our kids going here and there with a gaggle of friends in tow, craft projects or science experiments covering the table, someone cooking up something delicious in the kitchen, and a million other comings and goings of family life. However, our family is missing someone. For many years, we have felt this void. When we told our kids we were looking at adopting, they replied, "Oh good! We have felt like someone was missing from our family." We can't even imagine sifting through parent profiles, longing to find the family that will love and nurture your child... Man, you have a tough job. We don't know if we are the right ones to be matched with you and your child. We don't know if your child is the missing part of our family and the one that will become part of our beautiful chaos, but we are so grateful you are taking a minute to consider whether we just might be the right fit for you and your child.
Our Family Life
---
Love, laughter, and gathering
---
Two of these boys are ours. The rest are their friends and faces regugarly seen around at our house. This was taken at Benson Marina, where the boys love spending summer afternoons and evenings fishing, catching things, and playing in the water.
Our home is filled with a lot of laughter and even more love. There's also much quoting of favorite TV shows and movies, which usually results in eruptions of spontaneous singing. Our home tends to be a gathering spot for our children and their friends. We work really hard to make our home a place where everyone feels welcome, safe, loved, and accepted. We believe it is important to spend time as a family, enjoying each other's company, catching up on each other's day, and eating some good food. More often than not a friend, or three, will join us around our table to share a meal, laugh a bit, and make some memories. We can't wait to add another seat to our table for our missing child and begin making many more memories together. Any description of our family life would be incomplete without including our love for God and his many blessings to us. Religion plays a central role in our daily life and is an important part of our lifestyle and conversations. As we have undertaken this journey to complete our family we have felt the guiding hand of God helping and directing us each step of the way.
Our Family Adventures and Traditions
---
Traditions make memories that help us strengthen our family bonds.
---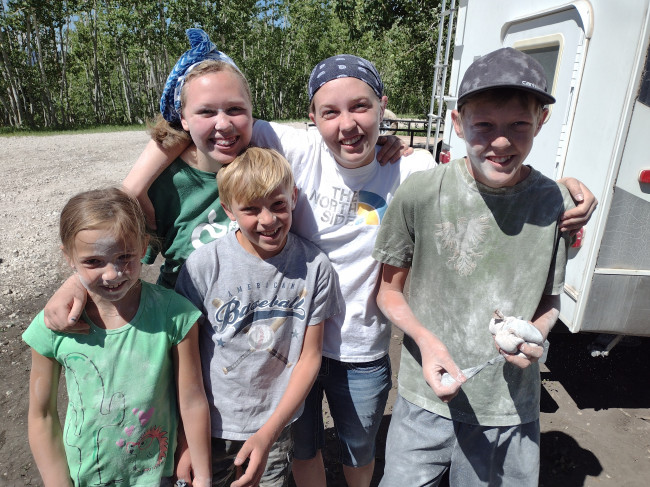 Every year during a camping trip with Amber's aunt and uncle, we have a summer snowball fight (nylons filled with flour). We are always laughing so hard by the end.
We love taking family adventures! We love hiking, going on road trips, exploring new places, and camping. Eric and Thomas are avid bird watchers, and Simon is always catching some kind of creepy, crawling creature. We also enjoy reading good books and have many favorites! We spend many summer nights star gazing while Eric teaches us about constellations, planets, and the wonders of heaven. We are all easily distracted by sparkling rocks and beautiful shells. We also have many family traditions that we look forward to every year. We host a St. Patrick's Day party with our extended family. We eat a special dessert, Snow Cake, by candlelight and dance to Christmas songs on the first snowfall of the year. We celebrate birthdays with dinner and grandparents. We drive around looking at Christmas lights on Christmas Eve and come home to play a game Santa's elves left us while we were gone. We eat fondue on Valentine's Day as a family. These adventures and traditions, along with many others, help us strengthen our family bonds with one another and create memories that we talk about often.
Our Family Code
---
Perfectly Imperfect
---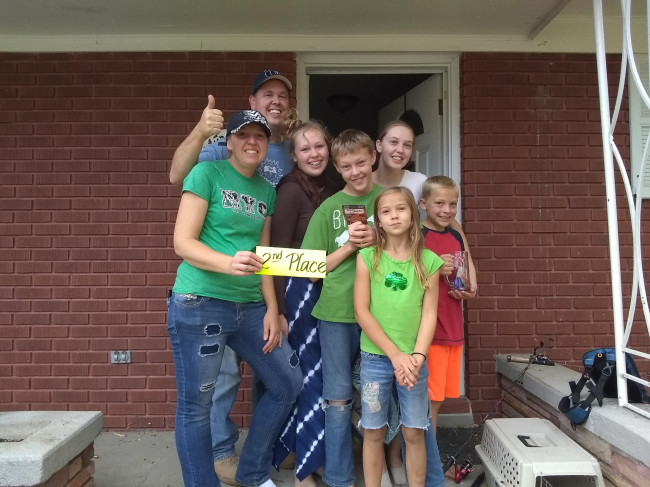 Our family participated in our community's founder's day celebration. We had to race to different historical places in the city and take a picture at each place. We got 2nd place!
One of Amber's favorite sayings is "Perfectly Imperfect". We know we are not the perfect parents. Our family isn't the perfect family. We love each other, but sometimes get annoyed. We laugh with each other, but sometimes get grumpy. We play together, we work together, we say sorry, we forgive, we work at having good, healthy relationships with each other while allowing each other and ourselves to be perfectly imperfect. Whatever brought you to read our story, we are hopeful to be a part of each other's perfectly imperfect journey.