Tyler & Peter
Hoping to Adopt
(New York)
We are Tyler and Peter: American and English college sweethearts, now lawyer and book editor, longing to fulfill our lifelong dream of becoming parents
---
We are so grateful for this opportunity to introduce ourselves to you - while we know we will never truly understand what you are feeling now, we want you to know how much we respect and support you.
---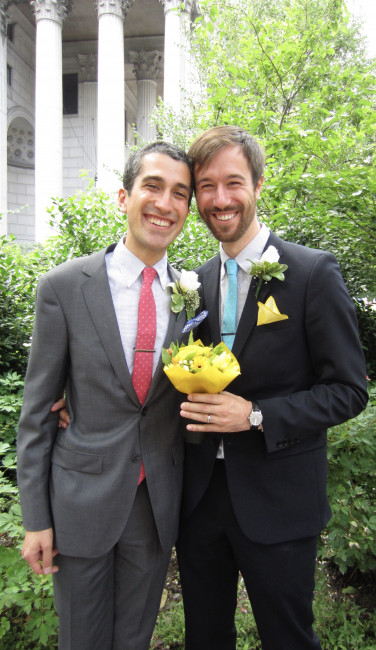 Peter (left) and Tyler (right) on our wedding day.
Hello from New York! Our names are Tyler and Peter, and we are so grateful that you are reading about us. We hope that it gives you a chance to learn about us, our values and our hopes for becoming parents. We are so excited and ready to be dads and would feel privileged to talk to you, get to know you and hear about your hopes and dreams for your baby's future. We realize that you are facing what might feel like an overwhelming decision. Although we cannot fully comprehend what it feels like to be in your situation, we want you to know that we respect and support you, and that whatever you decide to do, we want what's best for you. We realize that deciding to make an adoption plan is incredibly difficult and want to say how deeply thankful we are to be considered as potential adoptive parents. It takes a huge amount of strength, courage and unconditional, selfless love to make an adoption plan for a baby. We are so happy to meet you (even if only through this letter to start) and are looking forward to getting to know you! Best of both worlds – New York City and Connecticut country home We are a loving, happy and married couple, aged 34 and 38. We live in a safe, lively, beautiful neighborhood in New York City. Although we live right in the center of all that NYC has to offer, our street is quiet, with lots of trees and beautiful old buildings. We own our New York City home. It's spacious and just waiting for a child to grow up in. We have a private roof deck, where we enjoy hanging out in the sun and doing a little flower gardening right in the middle of the city. You can even see the Empire State Building if you crane your neck just right! We're lucky to have a great space to bring a child into - our home is bright and open and our neighbors are really friendly and relaxed. We are looking forward to bringing up a child in one of the most exciting and diverse cities in the world. The schools in our neighborhood are fantastic. We live a block from a great park with slides and swings - it's always packed with kids. There's a wonderful bookstore down the block with a great kids book section, and we're just a few minutes' walk away from the High Line Park and the beautiful Hudson River. There are restaurants from every part of the world on our doorstep, and exciting theater, live music, and fun museums (and the Harry Potter experience!) Our neighborhood and New York City has so many wonderful and exciting things to offer a child and we'd be so thrilled to make sure a child gets to take advantage of all the city has to offer while growing up in a really friendly and safe neighborhood. We also own a home in rural Connecticut, a place we love going on weekends and holidays. We both grew up in the country and having a place to enjoy time outdoors is something we really value. Our place is in a beautiful woodland setting - it would be such a fun place for a child to play and explore. When we're in the country, we love spending as much time outside as possible, whether eating dinner on the porch or going on bike rides and hikes, including on a section of the Appalachian Trail that runs right near the house. We are excited to give a child a chance to experience life outside NYC and to enjoy time in a wonderful small town setting, with great local swimming holes and a friendly, comfortable vibe. Our careers Peter is an editor at a publishing company and is passionate about books and writers. He is constantly bringing home new books and would be excited to share his love for reading with a child. When we spend time with our friends' children, he almost always ends up reading them a book. Peter has always dreamed about becoming a dad. Tyler is a lawyer working in finance. Law is a great profession and he loves the interesting projects he gets to work on all around the world. He's always felt so sure that becoming a very involved and doting father was something he wanted and was meant to be. We both have flexibility in our jobs and work from home for most of the week. How we met and our wedding We have been a couple for fourteen years and married for almost nine years. We met at Oxford University, in England, where Peter was studying Russian and German and Tyler was studying for a Masters degree in Chinese Studies. We fell for each other super quickly, and couldn't get enough time together right from the start. After we'd been together for five years, we were ready to take the next step and get married. We both felt so sure that marriage was an important way to mark our commitment and our love. We got married in 2013 in a small (but beautiful and emotional!) ceremony at City Hall in New York with our families.
We are so ready to become fathers
---
Together for 14 years and married for almost 9, we have a deeply loving relationship and can't wait to provide a strong, stable, loving foundation for a child to grow…
---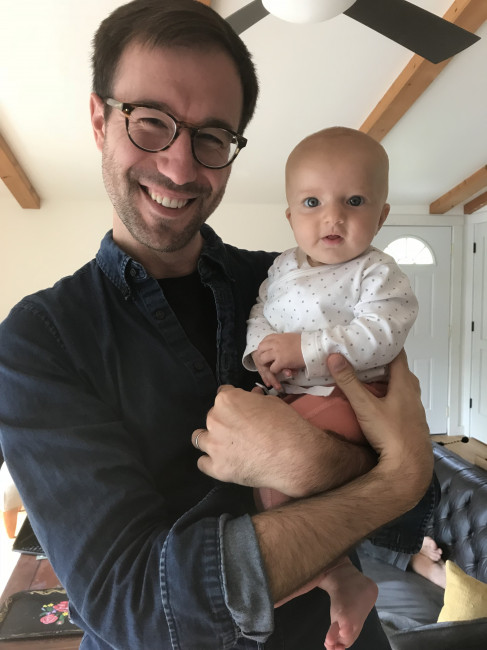 Tyler holding the daughter of one of his best friends.
Our relationship We have a really loving and equal relationship and have shared so many life experiences together. Our personalities complement each other really well, we share the same silly sense of humor and have so many shared interests and attitudes. It all makes for a very harmonious relationship and we feel very thankful to have found each other. We are so looking forward to sharing our deep love and happy, stable home with a child. We know that becoming fathers is more important than anything else we could do or achieve in our lives. Peter on Tyler I feel so lucky to have met Tyler and to have had him as a loving presence in my life for the past 14 years. Throughout every moment I've been blessed to be with someone who is thoughtful, caring, and a great listener. He always has good, practical advice and is always my biggest supporter. He has a great sense of humor and never thinks of himself as better than anyone else. I couldn't ask for a more wonderful and well-suited partner, and know that he will make the most loving, incredible father. Tyler on Peter From the very first moment I met Peter, I felt that he was something rare and different - kind, brilliant (he speaks 5 languages!), handsome, thoughtful, serious in his way but also fun and funny. He has a positive energy and is sweet and sensitive. He is incredibly giving and caring, great at planning ahead, and always thinking about what would be best for our family. I know he will be an incredible dad, and I am so excited to share the journey of parenthood with him. Our parents – excited for a first grandchild! We both grew up in really tight-knit families, and want to provide a child the same type of loving environment to learn about the world and grow up in a happy, healthy home. Peter grew up in a picturesque little village in southwest England surrounded by rolling green fields. He went to a music school and still loves playing the piano. Peter's dad, James, is a retired doctor, and of mixed Northern Irish and English heritage. He loves to play golf and cook. His mother, Pritam, was born in Malaysia to Indian Punjabi parents. She does volunteer work with elderly people and is an amazing gardener. Both of Peter's parents are now retired, in good health, and very excited about becoming grandparents. We Skype with them every week to catch up between their visits to New York and our trips to England. Tyler also grew up in a rural area, in Eastern Washington State, in a house surrounded by apple orchards. Tyler's mom, Rita, is a retired schoolteacher - she worked with special needs children for many years. She loves taking road trips, criss-crossing the West in her little RV with her partner Darrell and her sweet dog, Smokey. Darrell is an adoptive father himself and is especially supportive of our decision to adopt. Tyler's dad, Ken, is a retired P.E. teacher and coach. He is an avid outdoorsman and loves to fish and care for his friend's horses. Tyler's ancestry is primarily German, Irish and English, but with some Czech and French, as well. This would be the first grandchild for our parents. They are incredibly supportive of us, and are all yearning to be grandparents! We love seeing them around other people's children and imagining them with grandchildren. Our parents can't wait to stay with us in New York to help with a grandchild. We know they will shower a child with love and affection, spending lots of time with us to be part of the child's life. They are especially looking forward to finally spending holidays with a grandchild and sharing those special traditions with a grandchild that were so much part of our childhoods. Our siblings and other family Tyler's sister Jenny lives in New York City, where she works as a nurse at a hospital in Manhattan. She lives with her boyfriend Henderson and their dog, a shiba inu named Yuki. We often get together for family dinners, barbecues, trips to the park and walks around the city. Jenny's boyfriend Henderson has three adopted brothers, and we have been grateful to learn more about his experience as an adoptive brother. We have talked to Jenny about having a child for many years and she is incredibly excited to be part of the child's life. She is caring and outgoing and makes friends with people everywhere she goes. She is beloved by her patients and coworkers. We know that she will be an incredible aunt, but more than that, she will be an amazing friend, advisor and advocate for the child. Our lives are so enriched by her, and we know that it will be the same for a child. She is considering having children of her own, and we would be so excited for a child to have cousins nearby! Peter's brother, William, lives in London where he works at an accounting firm. He loves all things geeky, from comic books to cult films to computer games, and is one of the most switched-on people to great new TV and books. He doesn't have children (yet!), and he will make a wonderful uncle. Peter has aunts, uncles and cousins around the U.S. and also in the UK and Asia. He feels very lucky to have family all around the world. Tyler has aunts, uncles and cousins in New York and on the west coast. A recent cause for celebration is that in 2020, Peter became a U.S. citizen (although he remains charmingly British in all other ways!).
We have so much joy for life and want to give a child every advantage possible
---
It would fill our hearts with happiness to share the magic of Christmas with a child…
---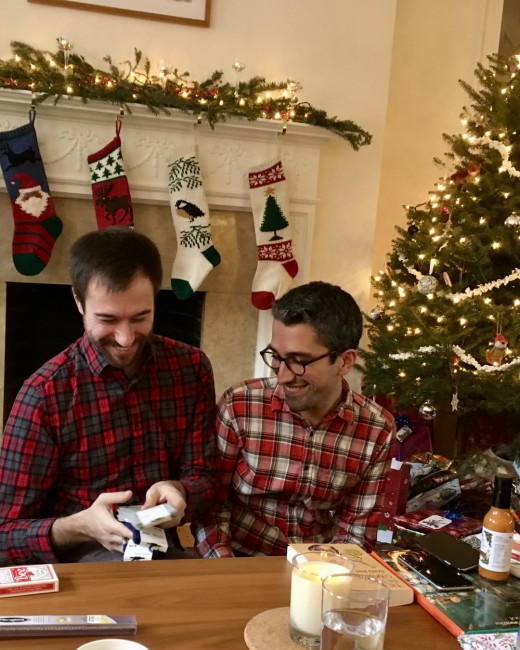 We love all the warmth and love that Christmas brings.
Our favorite holidays Christmas is the most important holiday in our families, and we really look forward to it every year. We can't wait to share that sense of excitement and anticipation with a child. The traditions in Peter's family included going out to pick a tree and coming home to decorate and bake while listening to carols on the radio. After putting Peter and his brother to bed, his parents would transform the house with homemade paperchains strung from the ceiling, and freshly cut holly and ivy boughs from the hedgerows surrounding the fields outside. When spending Christmas in England, we still hang paperchains and pick holly and ivy on Christmas Eve… all that's missing is a little one to surprise in the morning! Tyler's family always spent Christmas Eve with his grandma, sharing a festive meal after church, before returning home to read Christmas stories by the fire. Christmas morning was a joy - sharing gifts, eating his mom's homemade cinnamon rolls, and usually going sledding in the afternoon after a festive meal with aunts, uncles and cousins. Christmas is still our favorite time of year. We almost always spend the holidays with at least one set of grandparents, and we've continued some of our family traditions while creating new ones too. If we're not traveling, we go to a local Christmas tree farm to pick out our tree, and decorate it with ornaments we've collected on our travels and from our parents and grandparents too, along with lights, popcorn chains and candy canes. We love carols and Christmas music, and have that playing as we trim the tree and bake festive treats. Inspired by Peter's mom, Tyler always makes a traditional English pudding or Christmas cake. Peter is perfecting his mince pie recipe! Over the days leading up to Christmas, we wrap up gifts and usually write sweet or silly messages to read out before opening. We always hang stockings on Christmas Eve and would be so excited to create the magic of an overnight visit from Santa Claus for a child… as a child, Tyler kept his little sister believing in Santa Claus a few years longer than you might expect! Just as we did as kids, we'd have a little one leave out cookies and milk on Christmas Eve, and carrots for the reindeer too. On Christmas morning, we have breakfast with family and take turns selecting presents for others to open as we sit around the fire. It's always a cozy day, spent playing games by the fire while having egg nog or hot chocolate, interrupted only by the flurry of cooking for a big evening meal with everyone together. Giving thanks A close second favorite holiday for Tyler as a child was Thanksgiving. Although Peter didn't celebrate this holiday in England, he has also come to love this special time of year to focus on gratitude and family. We usually celebrate Thanksgiving with Tyler's sister Jenny and boyfriend Henderson, and sometimes with Tyler's mom or extended family. We make a roast dinner and Peter sometimes makes traditional English Yorkshire pudding. We always make homemade cranberry sauce and Tyler's dad's homemade stuffing recipe. We would love to celebrate Thanksgiving with kids running around, anticipating the meal together. It may be cold outside but it's always a warm and wonderful time of year at our house. We are also excited to incorporate ideas and traditions that might relate to a child's heritage. We would love to hear more about your traditions and how you celebrate festive occasions to include something of that in our family traditions. And of course, we are looking forward to creating new family traditions with a child! Activities we love We love getting out into the world, whether visiting museums or parks in the city, or going to shows and movies or to favorite restaurants. When we're in the country, we love spending weekend mornings at the farmers market and checking out local festivals in the towns around our place in Connecticut. We look forward to taking a little one on our adventures in the city and country. We have always loved to travel and are looking forward to new journeys with a child. We think that traveling to new places in the U.S. and around the world is a wonderful and educational way to experience different ways of life and to broaden our perspectives. And of course travel is also a lot of fun, too! We both grew up going to the beach every year (rain or shine in Peter's case!) and it's a tradition we want to continue as parents ourselves. We also enjoy our time being at home. We love to cook all sorts of food - English classics, Indian curries, lots of Chinese, Thai and Mexican and have even been known to spend a long weekend afternoon preparing an Ethiopian feast. Tyler also loves to bake bread on the weekends. We really look forward to teaching a little one to cook along with us. We love getting into a good book and also enjoy listening to audiobooks in the car. And of course, who can resist a good TV series? During the pandemic, we watched a lot of Schitt's Creek, The Great British Baking Show, and The Sopranos. We have an amazing group of friends in the city and love getting together to catch up and hang out. Almost all of our close friends have kids, and our time together is usually planned around nap schedules! We are just as likely to be drawing with chalk on the stoop or helping to construct a complicated wooden train set than we are to be catching up with the adults, but we have loved getting the chance to be a part of our friends' kids lives. We are excited to have this bigger community of parents who can give advice and support and with whom it will be really easy to get together for playdates, birthdays and weekend activities.
Phone calls, texts, photos and visits…if you are comfortable, we really hope to share this child's journey with you and to give them a strong connection to and positive feeling about their heritage
---
We would feel privileged to start a conversation with you and hear about your hopes and dreams for your baby's future…we can't tell you how happy we'd be to hear from you...
---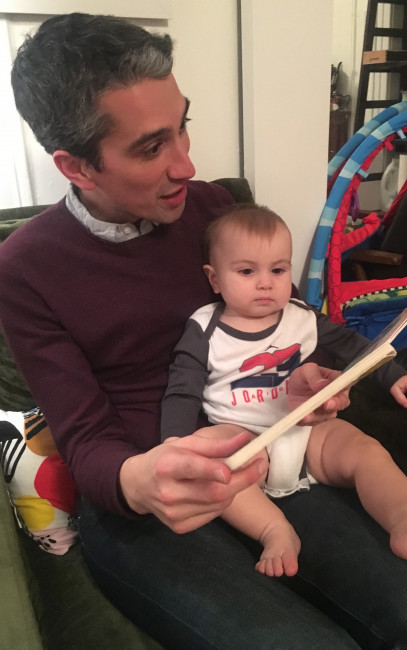 Peter loves reading to the children of our friends.
How we plan to raise a family Ever since our very first conversations about what our dreams were for our relationship and lives, we've both been certain that becoming parents was something we wanted to do. Having a child is the greatest (and most rewarding!) challenge we can imagine in life, and we're certain that we are ready to provide a strong, stable, loving foundation for a child to grow. We would give a child the opportunity to try different types of activities, from sports to music to art to all kinds of hobbies, to work out what they enjoy and what ignites their interest. We are looking forward to getting to know the child as they grow and to help nurture the talents and interests they have. We will support them at every step, wherever their interests and abilities lead them. Some of the values that we hope to instill in a child are the importance of loving and caring for the people and the world around us, the importance of honesty and giving thanks, how to communicate feelings and show empathy, and the value of having goals and working towards them. We want to teach a child to be open minded and thoughtful about others, and confident and secure in themselves. We believe that, at the end of the day, teaching a child to always approach others with a kind and open heart is the most important thing we can do as parents. Enough about us… We want to know about you and anything about your life that you would like to share with us. If we were to become adoptive parents, we would love to be able to share your story with the child and include some of your traditions in our family. Our hope is that we can share this child's journey with you, either through periodic visits, and/or through letters and updates. We will absolutely respect your wishes if this is not something you desire, at any stage, but if you are open to this we would really hope for the child to know you or know about you. We know that however you are involved in the child's life, it will be hugely positive. We realize that the decisions you are facing are incredibly difficult. As you consider whether making an adoption plan is the right path for you, we would feel privileged to start a conversation with you and hear more about your hopes and concerns about an adoption plan. We support you and would be open and honest with you in our conversations. Contact We would be thrilled to learn more about you and your hopes and dreams for your child. Please feel free to call or text us at 1-800-603-1667. We can also be reached by email at hello@tylerandpeter.com. Even if we are not the right couple as you consider making an adoption plan, we truly wish you peace and good health. With love, Tyler and Peter