Amaya from Alabama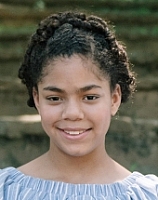 Age 19
Gender Female
Location Alabama
Ethnicity NA
Case Number S590110642
---
Jamel, born Feb. 2001, is the oldest of a sibling group of three. He has two younger siblings, a brother and a sister. He is a very polite young man and wants to please others through helping and making good choices. Jamel loves to play basketball and has ambitions of becoming an NBA when he is older. Jamel loves school and puts forth a good effort in his studies. He takes pride in his work and everything he does.
Amaya, born Dec. 2003, is a 13 year old young lady. Amaya has adjusted well to all the changes in her life. She is a very shy, polite, and energetic child. She is currently in the 7th grade and is doing very well. She is very dedicated to her studies and enjoys school. Amaya is making great progress on her socialization skills. She is learning that you can have more than one friend, and is being to come out of her shell. Amaya participates in dance classes. She enjoys all styles of dance including tap, clogging, ballet, and hip-hop. She is a very loving child, and loves all types of animals. Amaya enjoys going on vacations and spending time with her brothers.
Malachi, born June 2006, is currently a 4th grader, and he does very well in school. His favorite subject is Science and he enjoys learning things about biology and the environment. Malachi is a very kind, outgoing, and polite little boy. He is very friendly and loves to meet new people. Malachi loves to help and wants to be a people pleaser. He loves sports and is very athletic. He likes basketball, baseball, and football. However, football is, by far, his favorite. He enjoys playing and watching all sports. His favorite team is Alabama. Malachi has ambitions of being a pro football player one day. He also enjoys playing video games with his brother and is very competitive. Malachi enjoys going on vacation and dreams of being able to travel one day.