Ashanti from Alabama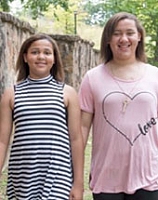 Age 20
Gender Female
Location Alabama
Ethnicity NA
Case Number S590110148
My Siblings Destiny
---
Ashanti, born February 2003, enjoys listening to music, reading, but also playing outside. She is very creative and loves to paint. She likes school and makes good grades. Ashanti is a member of the 4-H club. Her favorite subject is history. She has a big heart which shows in the way she treats people, as well as animals. Ashanti has great social skills and tries to maintain a good relationship with others. She wants to be famous when she grows up so she can meet other famous people.
Destiny, born in August 2004, is a girly-girl who has a wonderful imagination and bubbly personality. She enjoys being outside playing basketball and riding her bike. Destiny does well in school and her favorite subject is math. She wants to be a teacher when she grows up. Destiny has a youthful innocence and loves to play with baby dolls, but is still very intuitive with great insight into people.
Ashanti and Destiny display typical behaviors for their ages, and of course, have normal sibling behaviors, but have a very strong positive and loving bond with each other.