Jeramiah from Alabama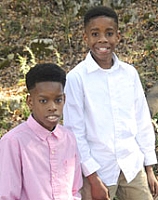 Age 17
Gender Male
Location Alabama
Ethnicity NA
Case Number S590110854
My Siblings
---
Jeramiah, born May 2005, enjoys playing basketball and football and does well playing both sports. He is also musically inclined and has played the drums during church services. Jeramiah does have an IEP to assist in his educational needs. He says his favorite subject is PE. Jeramiah's favorite food is meat loaf, and he enjoys eating at Buffalo Wild Wings.
Myrioin, born January 2007, also enjoys sports, especially basketball. He does well in school and does not receive any special education services. Myrion's favorite food is pizza and he loves to eat at Burger King. Myrion reports that he wants to be an NBA player when he grows up.
These brothers deserve a forever home and family who will love them unconditionally, keep them safe and secure, and who will help guide them through the coming teen years so that they can become the productive citizens and awesome adults they are destined to be.