Jermel from Alabama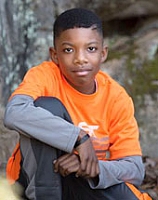 Age 16
Gender Male
Location Alabama
Ethnicity NA
Case Number S590110462
---
Adrien, born March 2005, likes to be called by his middle name, "Shamar". He enjoys playing football and basketball. He also enjoys playing video games and playing with his Pokémon cards. Shamar is a thinker and will sometimes process his thoughts and feelings before verbalizing his preferences or desires.
Jermel, born April 2007, enjoys playing basketball and video games. He also enjoys playing with small toys such as matchbox cars and bay blades. Jermel is practicing his ability to listen when completing tasks, as he is energetic. He has a genuine empathy for others and wants to see people happy.
These brothers long to be together in a stable and loving family.