Selena from Alabama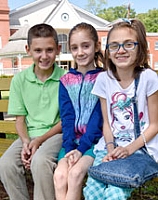 Age 15
Gender Female
Location Alabama
Ethnicity NA
Case Number S590110512
---
Tony, born July 2004, is a very energetic young man who loves interacting with others. Tony does fairly well in school, especially when he puts forth the effort. He does not receive any special services, and his favorite subject is reading. If he could plan a day that was all about himself, it would revolve around sports. He loves them all and is even a Manager on the school baseball team!
Jennifer, born September 2005, is a creative child who loves to read and draw. She does struggle some in school, but she has and IEP in place to support her progress. Jennifer loves to "play school" as well as design doll clothes and do their hair.
Selena, born October 2007, is a very creative girl who loves to be social and interact with others. She's doing well in school and is currently enrolled in the appropriate grade level without any special services. She enjoys math and feels most proud when she makes 100's on her tests. Selena enjoys playing on her electronic devices and being active through cheer leading. While Selena loves pizza, Chinese food is her favorite.
These children would benefit from a two-parent family with few or no other children.