Alexander from Arizona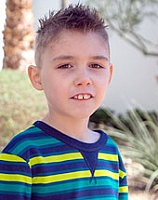 Age 16
Gender Male
Location Arizona
Ethnicity NA
Case Number Alexander
---
An energetic boy who is full of laughter, Alex loves running, jumping on the trampoline, and playing in the sand. He does best when he can move around and has the freedom to explore the environments around him with structure.
Alex enjoys surrounding himself amongst adults who continually encourage him and are patient with him. And while he likes his routine and predictability in his schedule, Alex is able to adventure into new areas with the guidance of a trusted adult.
Alex loves getting hugs and feeling loved. He is proud of how well he can sing. Alex also enjoys playing on his tablet and puts a lot of energy and effort into interactive game play. He is also proud that he can "take selfies!"
When it comes to food, Alex has a great appetite. His favorite foods are pizza and spaghetti, but he also has a sweet tooth for cake and cookies.
Alex will flourish being part of a family who provides consistent love and care. He will also do great with other children in the home. Alex was born in 2007.