Ashley from Arizona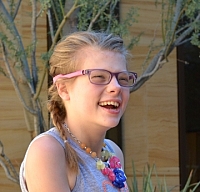 Age 21
Gender Female
Location Arizona
Ethnicity NA
Case Number Ashley
---
A total social butterfly, Ashley can been seen frequently giving hugs, smiling and waving. She loves pretending to be a princess — wearing pretty dresses and crowns — and playing with dolls. In fact, Ashley loves everything girly! But she is also fascinated with wheels, including carts, skates and shopping baskets.
Despite having multiple health challenges, Ashley can walk. She does, however, need assistance with daily living activities. She likes to be in the kitchen and even makes fruit salad. -Her favorite time of the day is lunch and she is not a picky eater. Her favorite food is chicken nuggets.
Ashley is not typically a morning person, preferring to sleep in. She receives services both at home and in school and these will need to continue. Ashley was born in 2002.