Ashley H from Arizona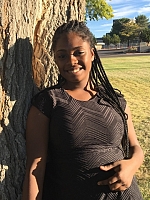 Age 21
Gender Female
Location Arizona
Ethnicity NA
Case Number Ashley H
---
Ashley's confident, cheeky, and humorous demeanor brings fun with her wherever she goes. Sports are important to her; she enjoys playing soccer, basketball and football.
Indoors, Ashley enjoys hanging out with her friends, listening to music and watching thriller and action films on Netflix. All these suspenseful flicks have encouraged her to consider joining the FBI after she graduates from college; she's thinking of attending Southern New Hampshire University. Or she might consider studying medicine at Harvard so she can become a surgeon. Either way, she has some big goals and a cheerful countenance to help her reach them.
Ashley was born in 2002.