Cody from Arizona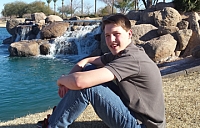 Age 22
Gender Male
Location Arizona
Ethnicity NA
Case Number Cody
---
Cody is a smart young man who likes to care for others. He enjoys laughing and spending quality time with people he trusts and he is always up for anything fun!
Cody loves to eat almost any food (except fish) but particularly has a sweet tooth. He enjoys going for walks, playing basketball and baseball, swimming and playing video games.
Cody loves to listen to music and favorite artists include LaCrae, Eminem and J. Cole. Cody is interested in new experiences and would love the chance to go to a fair, carnival or amusement park and he would love to learn to ride dirt bikes. He likes school and chemistry is his favorite subject.
Cody would be happy to have siblings in the home and loves animals of all kinds. He is respectful to adults and does well with clear expectations and boundaries. He enjoys time spent with peers and he likely would engage best with youth ages 6 and up. Cody is looking to build trust with a family who will offer him a safe environment to learn and grow. He would like, "a family that actually cares about me." Cody is looking for a family that will be a permanent place of love, nurturing and support.
Cody was born in 2001.