Coryeon from Arizona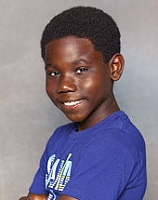 Age 13
Gender Male
Location Arizona
Ethnicity NA
Case Number AZ19474842
---
Meet funny, energetic, and determined Coryeon. Coryeon is very athletic and loves to play Basketball, Football, and Soccer. When Coryeon is not active says he enjoys playing any video games on his Xbox and collecting fidget spinners. He also says he loves to watch movies such as Boss Baby and listening to music from Michael Jackson.
Coryeon currently enjoys his math class the most because he likes doing addition and subtraction problems. Coryeon also states he doesn't know what he wants to be when he grows up but his dream is to one day be an NFL Running Back for his favorite team, the Denver Broncos.
Coryeon says his perfect day would include seeing a Football game or going to Jumpstreet to play on the trampolines and then eating at Taco Bell after. If this is not possible, Coryeon says he also would love to go swimming and then hang out with his family at BBQ or go out to get a pepperoni pizza.
Coryeon would benefit from a two parent family without siblings. His ideal family would be able to provide him a lot of structure and routine. Coryeon hopes his adoptive family would be willing to help him join the Football team at his school or join an afterschool football program because that is very important to him.