Debra from Arizona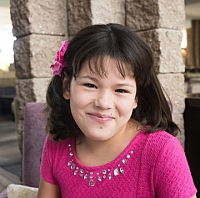 Age 18
Gender Female
Location Arizona
Ethnicity NA
Case Number Debra
---
Debbie, an imaginative and intelligent young lady, enjoys thoughtful games such as puzzles and word searches. She also has a creative side, doing different types of arts and crafts and she likes to sing.
One of Debbie's wishes is to be in a home with either dogs or horses — she really likes to be around animals. Another wish of Debbie's is to be part of a close-knit family who will help her heal from the past while building positive new experiences.
An energetic, happy, caring, and thoughtful girl, Debbie needs an adoptive family who will encourage her to maintain her relationships with her aunt and sisters.
Debbie was born in 2005.