Elijah from Arizona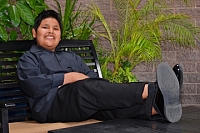 Age 19
Gender Male
Location Arizona
Ethnicity NA
Case Number Elijah
---
Elijah loves "Minecraft," riding his bike and swimming!
A thoughtful and affectionate boy, Elijah says he is a good friend because he can make others laugh. He enjoys school and says he loves a good challenge, which is why math and science are his favorite subjects! Elijah is proud of how he excels in his math class, but humbly says he would like to get better at reading.
Elijah experienced his first road trip recently and traveled to a few different states. He says it was the best part of his break from school. Elijah knows a lot about cars and his favorite car happens to be a Lamborghini. He even has a small toy Lamborghini that he treasures.
It is important to Elijah to have a forever family that will love and cherish him and will ensure that he has regular opportunities to feel connected with his Native American heritage. Elijah was born in 2004.