Jaiden from Arizona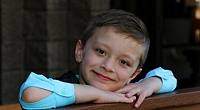 Age 15
Gender Male
Location Arizona
Ethnicity NA
Case Number Jaiden
---
Jaiden has a playful and creative personality!
He says that Spiderman is his favorite super hero. He has many different hobbies and enjoys building things out of cardboard and paper. His favorite video game is "Minecraft" and he also likes to play the game "I spy" with other people. Jaiden's favorite sport is soccer, but he just began swim lessons and really likes to swim as well.
He says that he has gone to the beach before and loves it. He hopes to visit a beach again someday.
His favorite foods are peanut butter and jelly sandwiches or bean and cheese burritos. However, Jaiden adds that he pretty much likes everything.
Jaiden was born in 2008.